YOOO! LET'S REEECAP!
Take a trip back in time and see what NFB's have been up to.
THE PEPPERMINT TIGER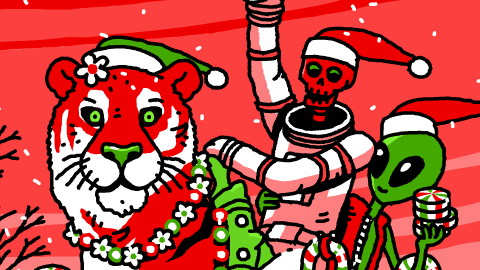 This is the Peppermint Tiger destination! We hope you have a wonderful holiday season boneFam...Love ya❤️💀💚 so much. More bone goodness in 2023 and a ton more cosmically chill adventures ahead!
SPOOKY LUAU
This is the "Spooky Luau" destination! We hope you have a wonderful spooky season boneFam...Love ya🖤💀🖤. More cosmically chill adventures ahead!
NFB BIRTHDAY BASH
NFB's first anniversary on the blockchain.
A LIL SPICY A LIL ICY
You gotta keep things a "Lil Spicy & a Lil Icy" in this crazy universe! Love ya bonefam! More adventures ahead!
SKULLS FEST
We hung out with the skulls of web 3 and dished out fun and prizes.
BIG STACKS THE GREAT
The bonefam had the opportunity to grab a bite and vibe out with "Big Stacks The Great". Big Stacks believes that the secret sauce of the universe is Gratitude! So chill long and prosper friends! More adventure ahead!
A MOMENT
The team posts up on a small lush planet named Demeter and takes a moment to chill and get recentered. It's nice to take "A Moment" and reflect on what is truly important. Remain chill until bonefam, more adventures ahead!
NFB X SQUADTS
This is the "SQUADT" destination! After the honor of being folded into the Squadt culture, these chillers raged into the night with minimal injuries. I wonder what our growing family will get into next?
PEW PEW! NFB X SLINGERS!
This is the "Pew Pew" destination! The BoneFam visits with the GunsSlingers. These hootin' hollerin' little cowbois are rough, rowdy, rambunctious and a roaring good time! Our crew had the time of their life on Pewto and can't wait to visit with the slingers again! I wonder what our growing family will get into next? Pew Pew!
TODABELLA
This is the "ToadaBella" destination! On the shroom planet, our boneFam could revive a blessing from the mystical ToadaBella. She issues a blessing by bouncing a tiny shroom off our friend's dome. This blessing would bring you great fortune and unexpected adventure! I wonder what our growing family will get into next?
QUICK VIEW CAROUSEL
Check out the collection on OpenSea, now updated with a quick view carousel with easy access to the original gif, glitched gif, PFP (skullaroid), destination, and glitched destination (if the NFB has received a destination). What's in your NFT?
CRYSTAL MINES
This is the "Crystal Mines" destination! It's hard work looking for that flawless Ξ crystal to power the ship, and nothing less than the best will do. Chill long and prosper friends. I wonder what these two will get into next?
GRAB A SLICE
This is the "Grab A Slice" destination! Our friends are finally enjoying the most cosmically chewy and delicious pizza in the universe on the pizza time planet. Chill long and prosper friends. I wonder what these two will get into next?
AWAKE
This is the "Awake" destination! We can't wait to travel the universe and have a ton of fun as we go. As this cosmic chillgrimage jumps off, we will stay woke, make new friends, and be wide open to all kinds of new adventures! Chill long and prosper
GUNSLINGERS PRESALE ACCESS
NFB holders had the oppertunity to jump on the Gunslingers presale and mint before the public offering
CUSTOM SKULLRIVATIVE
1/1 skullrivative giveaway winners @Episode_VI (NFB #7266) and @biterror_eth (NFB #5238)'s pieces added to their NFBs!
COSMIC CHILLERS JORNEY BEGINS
NFBs are headed out on a chillgrimage to explore the vastness of space and seek out only the chillest vibes. Each stop on the trip will be documented with a free update to 169 existing Nah Fungible Bones.
NFBS X SAD GIRLS BAR
NFBs partnered with @sad_girls_bar to bring the NFT space some heat! Skeletongue #3029 & NFB #31 (w/ new custom layer) up for grabs!!
SURPRISE SKULLRIVATIVE
@CozomoMedici (Snoop Dog - NFB #1926) & @KeyboardMonkey3 (NFB #613) received a surprise Skullrivative.
FAB FROST NFB GIVEAWAY
The NOV 2nd giveaway of one of the first bones to receive the Destination - Pumpkin Patch update. It is Fab Frost Skull #51!
NAHSTHETIC IMPLANTS
Ability to securely edit name and select image for your NFB. this establishes concept of allowing an NFB to be used in different ways via manipulating metadata references.
A NEW PFP FOR EVERY SINGLE NFB
Released 10,005 new static PFPs called "Skullaroids" for every single Nah Fungible Bone.
PUMPKIN PATCH: THE FIRST DESTINATION
Released randomly to 169 holders. Pumpkin Patch establishes the first "destination" on our cosmic journey.
PUMPKIN SPICE SKULLRIVITIVE
A 1 of 1 animation attached to the winner's NFB. This feature is called a Skullrivative.
NFB X EMERGENCEDAO
NFB x EmergenceDao and many other DAO based projects in a friendly competition between communities. The objective was simple - utilize Emergence's features within their panel collection in order to create a comprehensive and unique 3x3 panel.
GLITCHTOBER GLITCH RELEASE
New asset is attached via metadata to existing NFB... NO GAS!
Glitches Include:
Glibber (6818) Lil Crispy (2394) Glitchels (759) Zaxed (21) Spooky (10) Deep Fried (3)
NFBS LAUNCH
4 people in discord (ooof!)

Free mint for first NFB (Nice!)
Ability to buy 1, 5, or 10
First of its kind 10,005 animated collection